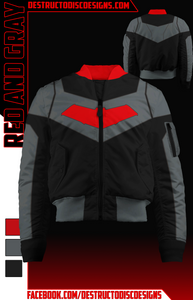 Red and Gray Bomber Jacket! [Limited]
$6900

$69.00
Tax included.
---
---
[Please note these are extras we have in stock, so not many remain.]
1. The Bomber Jackets are SHORT in length compared to the hoodies, they are meant to be that way so that they reach just above/or on the waist level. Please consider this before placing an order.
2. The zippers will be a normal zipper (not like the one pictured in the image, but more like the hoodies, a regular zipper.)
3. The Sleeves/Collar/Waist are all polyester so they might not stretch as intended so please keep that in mind. If you have purchased a hoodie from us it will be identical to that.
4. These jackets are different sizing than the hoodies!! Please check the size chart!
Since these are made to order if you get the wrong size there may not be any more of different sizes for you get an exchange, so please keep that in mind.
Please also note that colors and designs can slightly change, we will make sure its 99% accurate as possible!